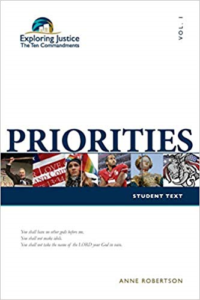 Do you have a heart for justice? Do you long for a place where you could explore social issues in a respectful environment? Join us for our Lenten series, Priorities, the first volume in a new series that examines social justice issues through the lens of the Ten Commandments.
No matter what side of the issues you are on, you will be able to express your thoughts, listen to others and learn the history behind some of the deep divisions we see in our country and world right now. This study looks at how making modern idols fuels our division and stalls justice. We will explore protests, issues surrounding the flag, the pledge of allegiance, the national anthem, First and Second Amendments, nationalism and more. You will have a chance to examine your heart and hear how others have come to where they are on their journey.
We will gather for an hour on Thursday evenings at 6pm beginning Feb 27. You can purchase the book on Amazon for $14.00 or download it to your tablet/kindle device. https://www.amazon.com/dp/0990721299?ref_=pe_3052080_397514860
Please contact the church office if you have any questions. 778 3189 or [email protected]
Hope you can join us!